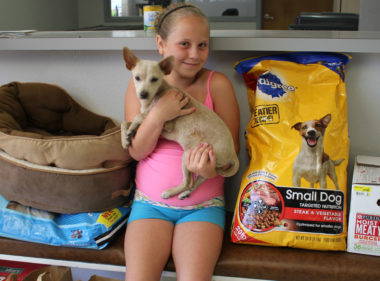 We have many opportunities to volunteer at Pets and People. One way you could help is either in the mornings any time from 8:00 a.m. to 11:30 a.m. or in the afternoons anytime between 4:00 p.m. to 7:00 p.m. These are the times when the cages are being cleaned and animals are being fed. We also have many dogs that need to be walked individually due to shyness or 'does not play well with other' dogs. Volunteers are welcome every day, including holidays.
Another way would be to make a commitment to 'mentor' an individual dog. This helps them to become more sociable, teaching them manners etc., so that they show better when being looked at for possible adoption. We like our mentors to come out if possible, 2 to 3 times a week working with their dogs and giving them individual attention.
Pets and People has a Thrift Store at 322 Elm Ave Yukon, Oklahoma 73099. They need volunteers throughout the week with sorting donations etc. Please call (405) 350-3199 and talk with Tonya!
Want to be added to our email alert list?
We need help during different events throughout the year, such as fundraisers. We can put you on our list, and send you an email when we need volunteers the most. Click here to send us your email address and information
Volunteer Opportunities
Thrift Store Helpers
Organizing, cleaning, greeting customers, and getting to know the animals!
Answering phone calls and questions. Also help with data-entry, organizing, and filing.
Maintaining a clean and orderly laundry room by starting laundry loads, folding clean laundry, organizing the storage of blankets, towels & toys, and sanitizing carriers, crates & playpens.
Keeping the cat living rooms clean and friendly by scooping litter boxes, spot cleaning furniture, brushing cats, and helping the staff get to know each individual's personality through socialization.
Cleaning jobs include deep cleaning, dusting, sweeping, mopping, scooping poop, cleaning kennels, windows, laundry, dishes and more.
Socializing and playing with adult dogs and puppies. Training adult dogs on basic commands.
Volunteers age 13 to 17 must fill out a required parental consent form.